Fluteless Tap
for Non-Ferrous Alloys
Fluteless taps produce threads by deforming the material, thus without any chips. They are suitable for blind and through holes, and their field of application has grown wider, including now aluminum, steel and stainless.
Outlook & Drawing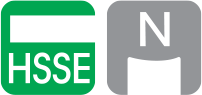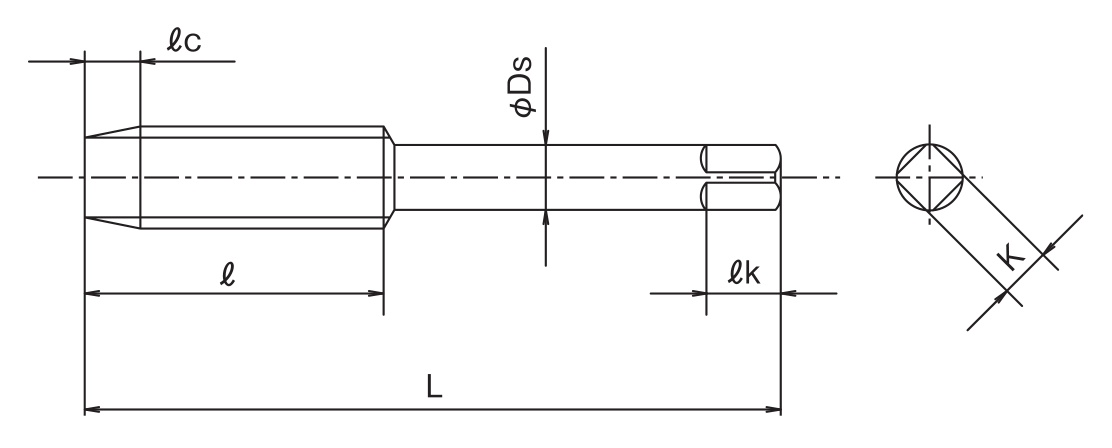 Application of Fluteless Tap
Suitable for nonferrous alloys such as aluminum, magnesium, zinc, copper and it's alloys.
Tool Material Type
Vanadium-containing High-Speed Steel (HSSE)
Surface treatment
Nitride
Features
Capable of efficient, long life and high speed tapping.
No chip formation and save chip disposal time
Quite fit for aluminum alloy casting and zinc casting in through / blind hole application
Attention! Threading with fluteless tap is only applicable for stringy materials
Working Material and Cutting Speed
Working Material
Blind hole
Through hole
suitable cutting
speed (n/min)
Working Material
Blind hole
Through hole
suitable cutting
speed (n/min)
Low Carbon Steels
~C0.25
8~13
Brass castings/Brass
Bsc.Bs
Good
Good
7~12
Medium Carbon steels
C0.25~C0.45
7~10
Aluminum Rolled
AL
Good
Good
10~20
High Carbon steels
C0.45~
5~8
Bronze
PB
Good
7~12
Alloy steels
SCM
5~8
Aluminum alloy castings
AC ADC
Excellent
Good
10~15
Hardened steels
HRC25~45
-
Magnesium alloy casting
MC
-
Stainless steels
SUS
Good
5~10
Zinc castings
ZDC
Excellent
Excellent
7~12
Cast steel
SC
-
Titanium Alloys
Ti-AL
-
Cast iron
FC
-
Nickel alloys
Inocorel
-
High Tension Cast Iron
FCD
-
Thermosetting Plastic
Epoxy
-
Cooper
Cu
Good
Good
7~12
Thermoplastic
PVC Nylon POM
-
Lubrication
| | |
| --- | --- |
| Cutting Fluids | Work Material |
| NON-WATER SOLUBLE | Carbon steels (low,medium,high), Alloy steels, Hardened Steels, Stain steels, Cast steels, Cast iron, Ductile cast, Cooper, Brass, Brass casting, Bronze, Aluminum Rolled, Aluminum alloy casting, Masnesium alloy casting, Zinc alloy casting |
| WATER SOLUBLE | Carbon steels (low,medium,high), Alloy steels, Hardened Steels, Stain steels, Cast steels, Cast iron, Ductile cast, Cooper, Brass,  Brass casting, Bronze, Aluminum Rolled, Aluminum alloy casting, Masnesium alloy casting, Zinc alloy casting, Thermosetting Plastic, Thermoplastic |
| SEMI-DRY | Cast iron, Ductile cast, Brass, Brass casting, Thermosetting Plastic |
| DRY | Cast iron, Brass,  Brass casting, Thermosetting Plastic |
Ordering of Fluteless Tap
Thread type : Metric
Unit : mm
RG NO.
Thread Size
TAP Limit
Chamfer (lc)
Total Length (L)
Thread Length (l)
Shank Dia. (Ds)
1000012714
M3 X 0.5
RH5
P
46
9
4
1000012734
M4 X 0.7
RH6
P
52
10
5
1000012735
M4 X 0.7
RH6
B
52
10
5
1000012744
M5 X 0.8
RH6
P
60
11
5.5
1000012745
M5 X 0.8
RH6
B
60
11
5.5
1000012756
M6 X 1
RH7
P
62
12
6
1000012757
M6 X 1
RH7
B
62
12
6
1000128945
M8 X 1.25
RH6
P
70
18
6.2
1000128946
M8 X 1.25
RH6
B
70
18
6.2
1000012776
M8 X 1.25
RH7
P
70
18
6.2
1000012777
M8 X 1.25
RH7
B
70
18
6.2
1000012791
M8 X 1
RH7
B
70
18
6.2
1000012808
M10 X 1.5
RH7
P
75
19
7
1000012809
M10 X 1.5
RH7
B
75
19
7
1000128947
M10 X 1.25
RH6
P
75
19
7
1000128948
M10 X 1.25
RH6
B
75
19
7
1000012822
M10 X 1.25
RH7
P
75
19
7
1000012823
M10 X 1.25
RH7
B
75
19
7
1000128951
M12 X 1.75
RH7
P
82
23
8.5
1000128952
M12 X 1.75
RH7
B
82
23
8.5
1000012846
M12 X 1.75
RH8
P
82
23
8.5
1000012847
M12 X 1.75
RH8
B
82
23
8.5
1000128943
M12 X 1.75
RH9
P
82
23
8.5
1000128944
M12 X 1.75
RH9
B
82
23
8.5
1000012860
M12 X 1.5
RH7
P
82
23
8.5
1000012861
M12 X 1.5
RH7
B
82
23
8.5
1000128941
M12 X 1.5
RH8
P
82
23
8.5
1000128942
M12 X 1.5
RH8
B
82
23
8.5
1000012876
M12 X 1.25
RH7
P
82
23
8.5
1000012877
M12 X 1.25
RH7
B
82
23
8.5
1000012894
M12 X 1
RH7
P
82
23
8.5
1000012895
M12 X 1
RH7
B
82
23
8.5
1000012912
M14 X 2
RH10
P
88
25
10.5
1000012913
M14 X 2
RH10
B
88
25
10.5
1000012926
M14 X 1.5
RH9
P
88
25
10.5
1000012927
M14 X 1.5
RH9
B
88
25
10.5
1000012940
M16 X 2
RH10
P
95
27
12.5
1000012941
M16 X 2
RH10
B
95
27
12.5
1000012954
M16 X 1.5
RH9
P
95
27
12.5
1000012955
M16 X 1.5
RH9
B
95
27
12.5
1000012968
M18 X 2.5
RH11
P
100
29
14
1000012969
M18 X 2.5
RH11
B
100
29
14
1000012984
M18 X 1.5
RH10
P
100
29
14
1000012985
M18 X 1.5
RH10
B
100
29
14
1000012986
M20 X 2.5
RH11
P
105
30
15
1000012987
M20 X 2.5
RH11
B
105
30
15
1000012988
M20 X 1.5
RH10
P
105
30
15
1000012989
M20 X 1.5
RH10
B
105
30
15