Short Thread Fluteless Tap
for Steels
Fluteless taps produce threads by deforming the material, thus without any chips. They are suitable for blind and through holes, and their field of application has grown wider, including now aluminum, steel and stainless.
Outlook & Drawing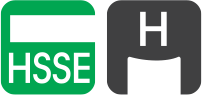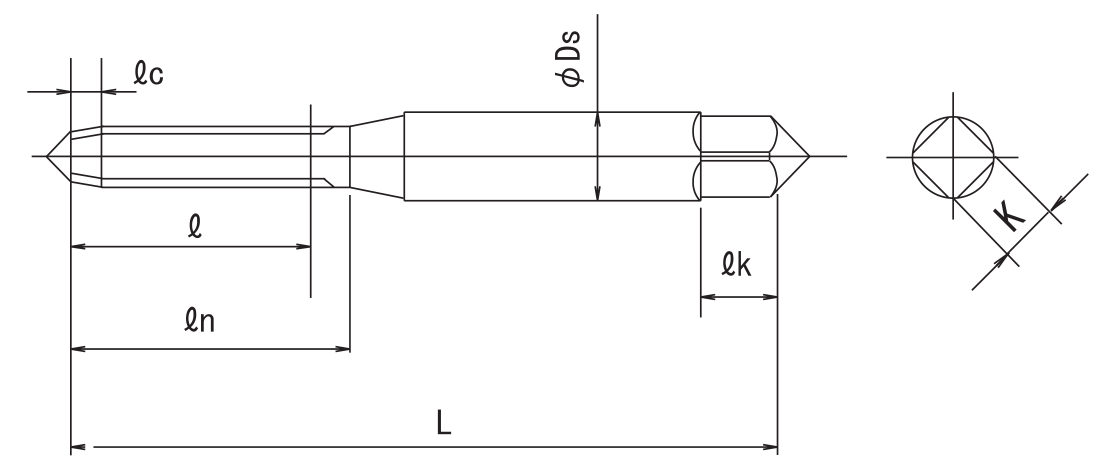 Application of Fluteless Tap
Suitable for low cabon steel, medium cabon steel and high cabon steel.
Tool Material Type
Vanadium-containing High-Speed Steel (HSSE)
Surface treatment
Homo Processing
Features
High efficiency and longer tool life
No chip formation and save chip disposal time
Reduced danger of breakage through rigid design
For the production of threads in through and blind holes
Produce an excellent pitch diameter well within the class of fit the pitch diameter tolerances
Ideally suited for short thread application
Attention! Threading with fluteless tap is only applicable for stringy materials
Working Material and Cutting Speed
Working Material
Blind hole
Through hole
suitable cutting
speed (n/min)
Working Material
Blind hole
Through hole
suitable cutting
speed (n/min)
Low Carbon Steels
~C0.25
Good
Good
8~13
Brass castings/Brass
Bsc.Bs
7~12
Medium Carbon steels
C0.25~C0.45
Good
Good
7~10
Aluminum Rolled
AL
10~20
High Carbon steels
C0.45~
Good
Good
5~8
Bronze
PB
7~12
Alloy steels
SCM
5~8
Aluminum alloy castings
AC ADC
10~15
Hardened steels
HRC25~45
-
Magnesium alloy casting
MC
-
Stainless steels
SUS
5~10
Zinc castings
ZDC
7~12
Cast steel
SC
-
Titanium Alloys
Ti-AL
-
Cast iron
FC
-
Nickel alloys
Inocorel
-
High Tension Cast Iron
FCD
-
Thermosetting Plastic
Epoxy
-
Cooper
Cu
Good
Good
7~12
Thermoplastic
PVC Nylon POM
-
Lubrication
| | |
| --- | --- |
| Cutting Fluids | Work Material |
| NON-WATER SOLUBLE | Carbon steels (low,medium,high), Alloy steels, Hardened Steels, Stain steels, Cast steels, Cast iron, Ductile cast, Cooper, Brass, Brass casting, Bronze, Aluminum Rolled, Aluminum alloy casting, Masnesium alloy casting, Zinc alloy casting |
| WATER SOLUBLE | Carbon steels (low,medium,high), Alloy steels, Hardened Steels, Stain steels, Cast steels, Cast iron, Ductile cast, Cooper, Brass,  Brass casting, Bronze, Aluminum Rolled, Aluminum alloy casting, Masnesium alloy casting, Zinc alloy casting, Thermosetting Plastic, Thermoplastic |
| SEMI-DRY | Cast iron, Ductile cast, Brass, Brass casting, Thermosetting Plastic |
| DRY | Cast iron, Brass,  Brass casting, Thermosetting Plastic |
Ordering of Fluteless Tap
Thread type : Metric
Unit : mm
RG NO.
Thread Size
TAP Limit
Chamfer (lc)
Total Length (L)
Thread Length (l)
Shank Dia. (Ds)
157002
M1.7 X 0.35
RH3
P
36
8
3
157004
M1.7 X 0.35
RH3
B
36
8
3
132701
M1.7 X 0.35
RH4
P
36
8
3
132702
M1.7 X 0.35
RH4
B
36
8
3
157006
M2 X 0.4
RH3
P
40
9
3
157009
M2 X 0.4
RH3
B
40
9
3
157007
M2 X 0.4
RH4
P
40
9
3
157010
M2 X 0.4
RH4
B
40
9
3
132703
M2 X 0.4
RH5
P
40
9
3
132704
M2 X 0.4
RH5
B
40
9
3
132707
M2.3 X 0.4
RH5
P
42
9
3
132708
M2.3 X 0.4
RH5
B
42
9
3
157014
M2.5 X 0.45
RH3
P
44
10
3
157017
M2.5 X 0.45
RH3
B
44
10
3
157015
M2.5 X 0.45
RH4
P
44
10
3
157018
M2.5 X 0.45
RH4
B
44
10
3
132709
M2.5 X 0.45
RH5
P
44
10
3
132710
M2.5 X 0.45
RH5
B
44
10
3
157020
M2.6 X 0.45
RH3
P
44
10
3
157023
M2.6 X 0.45
RH3
B
44
10
3
157021
M2.6 X 0.45
RH4
P
44
10
3
157024
M2.6 X 0.45
RH4
B
44
10
3
132711
M2.6 X 0.45
RH5
P
44
10
3
132712
M2.6 X 0.45
RH5
B
44
10
3
157026
M3 X 0.5
RH3
P
46
11
4
157030
M3 X 0.5
RH3
B
46
11
4
157027
M3 X 0.5
RH4
P
46
11
4
157031
M3 X 0.5
RH4
B
46
11
4
157028
M3 X 0.5
RH5
P
46
11
4
157032
M3 X 0.5
RH5
B
46
11
4
132713
M3 X 0.5
RH6
P
46
11
4
132714
M3 X 0.5
RH6
B
46
11
4
157034
M3.5 X 0.6
RH3
P
48
11
4
157036
M3.5 X 0.6
RH3
B
48
11
4
132717
M3.5 X 0.6
RH5
P
48
11
4
132718
M3.5 X 0.6
RH5
B
48
11
4
157038
M4 X 0.7
RH4
P
52
12
5
157041
M4 X 0.7
RH4
B
52
12
5
157039
M4 X 0.7
RH6
P
52
12
5
157042
M4 X 0.7
RH6
B
52
12
5
132719
M4 X 0.7
RH7
P
52
12
5
132720
M4 X 0.7
RH7
B
52
12
5
157044
M5 X 0.8
RH4
P
60
13
5.5
157047
M5 X 0.8
RH4
B
60
13
5.5
157045
M5 X 0.8
RH6
P
60
13
5.5
157048
M5 X 0.8
RH6
B
60
13
5.5
132725
M5 X 0.8
RH7
P
60
13
5.5
132726
M5 X 0.8
RH7
B
60
13
5.5
157050
M6 X 1
RH4
P
62
14
6
157052
M6 X 1
RH4
B
62
14
6
132729
M6 X 1
RH7
P
62
14
6
132730
M6 X 1
RH7
B
62
14
6
Thread type : U
Unit : mm
RG NO.
Thread Size
TAP Limit
Chamfer (lc)
Total Length (L)
Thread Length (l)
Shank Dia. (Ds)
RG NO.
Thread Size
TAP Limit
Chamfer (lc)
Total Length (L)
Thread Length (l)
Shank Dia. (Ds)
156902
NO.2 - 56 UNC
RH3
P
42
9
3
156904
NO.2 - 56 UNC
RH3
B
42
9
3
132609
NO.2 - 56 UNC
RH4
P
42
9
3
132610
NO.2 - 56 UNC
RH4
B
42
9
3
156906
NO.4 - 40 UNC
RH3
P
44
10
3
156908
NO.4 - 40 UNC
RH3
B
44
10
3
132617
NO.4 - 40 UNC
RH5
P
44
10
3
132618
NO.4 - 40 UNC
RH5
B
44
10
3
156910
NO.6 - 32 UNC
RH3
P
48
11
4
156913
NO.6 - 32 UNC
RH3
B
48
11
4
156911
NO.6 - 32 UNC
RH5
P
48
11
4
156914
NO.6 - 32 UNC
RH5
B
48
11
4
132625
NO.6 - 32 UNC
RH6
P
48
11
4
132626
NO.6 - 32 UNC
RH6
B
48
11
4
156916
NO.8 - 32 UNC
RH4
P
52
12
5
156918
NO.8 - 32 UNC
RH4
B
52
12
5
132633
NO.8 - 32 UNC
RH6
P
52
12
5
132634
NO.8 - 32 UNC
RH6
B
52
12
5
156920
NO.10 - 24 UNC
RH4
P
60
13
5.5
156922
NO.10 - 24 UNC
RH4
B
60
13
5.5
132641
NO.10 - 24 UNC
RH6
P
60
13
5.5
132642
NO.10 - 24 UNC
RH6
B
60
13
5.5
156924
NO.10 - 32 UNF
RH4
P
60
13
5.5
156926
NO.10 - 32 UNF
RH4
B
60
13
5.5
132643
NO.10 - 32 UNF
RH6
P
60
13
5.5
132644
NO.10 - 32 UNF
RH6
B
60
13
5.5
156928
1/4 - 20 UNC
RH6
P
62
14
6
156930
1/4 - 20 UNC
RH6
B
62
14
6
132655
1/4 - 20 UNC
RH7
P
62
14
6
132656
1/4 - 20 UNC
RH7
B
62
14
6
156932
1/4 - 28 UNF
RH5
P
62
14
6
156934
1/4 - 28 UNF
RH5
B
62
14
6
132657
1/4 - 28 UNF
RH6
P
62
14
6
132658
1/4 - 28 UNF
RH6
B
62
14
6